Banana - Fresh and Healthy!
Banana is considered as one of the most popular fruits grown in the world.  It helps keep fresh and healthy. There are several types of bananas but Cavendish variety is most in demand for exports. So it is now commercially grown at large scale in India for export purpose. Meem Exim is amongst the leading Banana Exporters and suppliers in India. We are a verified member of IndiaMart!
More About Indian Bananas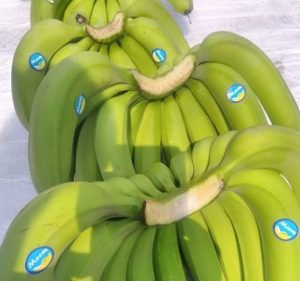 They are a very important fruit crops. It ranks second in respect of area but first production wise. India is the largest banana producer in the world. It accounts for roughly 29% of total global production of the fruit according to APEDA. Main growing states are Tamilnadu, Maharashtra and Gujarat. We, at Meem Exim, export two most popular types of Indian Bananas - Cavendish and Robusta .
Meem Exim - Top Quality Banana Exporters from Mumbai India! 
Meem Exim has earned reputation for itself for supplying and exporting top quality Bananas  based in Mumbai India. We have directs tie-ups with growers in states of Tamil Nadu, Gujarat, Andhra Pradesh and Maharashtra. We source and supply from all these States. In fact, Jalgaon, Pune and Solapur belts are major banana producing pockets in Maharashtra. Our big volume orders ensures a very competitive price from manufacturers/packers. We negotiate very hard on clients behalf to provide them with best bottom price. Additionally, we have the know-how of the market so quality is what is promised. We follow stringent quality control procedures that ensures best quality product reaches our clients. Inferior quality is sorted and circulated in domestic markets and only premium quality are exported. Bananas are taken from field to pack houses equipped with modern facilities.  Standard guidelines are followed right from sorting, grading and packing as set by Indian Food Authority, thereby meeting international standards for export purpose. Please refer to Banana Gallery for more informations and picture wise presentation! 
7 Kg Banana Specifications:
| | |
| --- | --- |
| Product | Banana (Cavendish Variety G9) |
| Grade | 'A' Grade Export Quality |
| Colour | Green |
| Maturity | 40 to 46 (Depends upon age, size and length) |
| No. of Hands | 2/3/4 Hands |
| Length | 16 cm to 25 cm (Pulp to Tip) |
| Net Weight per Box | 7 Kg |
| Gross Weight per Box | 7.50 Kg (approximately) |
| Type of Packing | 7 Kg in Premium Boxes |
| Load-ability in 40 fit container | 2860 Boxes |
| Mode Of Stuffing | Non-Palletized |
| Temperature | 13.5 Degree in Reefer |
| Delivery | 2 to 3 weeks from Payment Confirmation |
| Port Of Loading | JNPT, Mumbai / Tuticorin, Tamil Nadu |
| Payment Terms | |
| 50% advance and balance against scan copy of B/L | Or 100% Confirmed Irrevocable LC at sight |
Note: We also pack in 13 Kg and18 Kg boxes, later is subject to voloume cap!
Increase Exports of Indian Bananas?

 

Due to its Excellent Taste!
Until recently most of Indian Cavendish Banana produced were consumed domestically. It is only now that focus on taking it to global consumer is being pursued in a big way. Indian Banana is known for its superior taste and quality. And this fact is now being discovered by the consumers. This has resulted in  huge demand. As per experts, the superior taste of Indian Banana is due to  higher percentage of glucose content as against the ones grown in countries like Ecuador and Philippines.  In addition, the diameter of each finger measures 44 to 48 in Caliper, against the international standard of 42 to 47. The average length is 23.5 cm.
Major Markets for Banana Exports 
The major export markets of Indian Banana are UAE, Saudi Arabia, Iran, Kuwait, Bahrain and Qatar. Meem Exim is exporting to these countries on regular basis. We now endeavour to increase our reach to Japan, South Korea and some Eurpoean Markets as well. We have recently expanded our market to include Georgia. We're very pleased with positive response to our Banana quality and superior taste despite the long transit time. Even a trial shipment was shipped by NRCB to European market recently hoping for positive response!
Other Fruits
We have expanded our horizon to include in our fruit basket Indian Grapes and Pomegranates. We hope to repeat the same success with them as well. It is our top priority to ensure all our fruits have great taste and fresh smell with excellent quality. We look forward to being at your service with best prices, optimum quality, meeting your volume requirements and on time delivery.
Banana Season In India 
It is available in India round the year. However, arrivals of fruit starts increasing from April and arrivals are at peak during August to October period.