Cavendish Banana -

Farm Fresh, Hand Picked!
Do you know? Fresh Cavendish Banana is the most accepted international variety. Indian Banana Grand Naine (G9) is a tall statured plant and a high yielding variety grown for commercial purpose. The plant grows to a height of about 7 feet and bunches can be harvested in about a year time from the date of plantation adopting latest best agricultural practices like Drip Irrigation, Nutrient and Pest Management. 
Meem Exim - Banana Exporter of Choice from Mumbai India
We are amongst the major Banana exporting companies based in Mumbai India. We, at Meem Exim, take extra effort to bring to you Premium Quality Banana from India. Our team of experts always work in collaboration with farmers guiding them on each aspect of cultivation process. Bananas are hand picked from farms manually and entire process is undertaken in our supervision .  Our key advantages that helps us to bring to you finest quality of Indian banana at very competitive price:
Experts knowledge in selection of top banana bunches

Direct purchase from farm keeps cost low

Large volumes transactions

Strong market knowledge

Grading and sorting as per approved SOP developed by us in line with government requirement to ensure only best banana is exported.

Regular supply keeping you worry free of inventory.

Quick turn around time. 

Based in Mumbai, we have strategic location advantage with shorter transit time to most markets, especially the Gulfs.

Excellent packing in Premium corrugated boxes

Very sincere and cooperative staff at your service all time
For detailed procedure via pictures, please feel free to check out our Banana Gallery page! 
Banana supplied by us on an average produces a bunch weighing 25 kg and may go up to 32-35 kg, with 8-10 hands with 200-220 fruits/bunch. The length of the fruit is 16-25 cm and girth is 12-13 cm. Domestic clients can also reach us using IndiaMart.
13 Kg Cavendish Banana Specifications
Product

Cavendish Banana Grand Naine (G9)

Grade

'A' Grade Export Quality

Colour

Green

Maturity

40 to 46 (Depends upon age, size and length)

No. of Hands

4/5/6  Hands

Length

16 cm to 25 cm (Pulp to Tip)

Net Weight per Box

13 Kg

Gross Weight per Box

14 Kg (approx.)

Type of Packing

13 Kg in Premium Boxes

Load-ability in 40 fit Container

1540 Boxes (Equivalent to 20 MT)

Mode of Stuffing

Non Palletized

Temperature

13.5 Degree in reefer

Delivery Time

2 to 3 Weeks after Payment Confirmation

Port Of Loading

JNPT, Mumbai/Tuticorin Port Tamil Nadu

Payment Terms

50% advance and balance against scan copy of B/L

Or 100% Confirmed Irrevocable L/C at sight
Supply Ability
We can load up to three containers daily. And have capacity to increase the volume if advance requirement is communicated to us provided our payment is guaranteed!
Supply Terms
We work on FOB, CNF and CIF basis. However, we prefer CIF basis  supply term as it helps us keep control of all logistical operations seamlessly. 
Delivery Time
Normally, first shipment takes about two to three weeks. Thereafter, future shipments can be loaded much earlier in three to four days time.  For regular confirmed orders known in advance, we can ship daily or as per demand of customer.
Availability
Banana is available for full calendar year thanks to vast geography of India. We have tie-ups with growers from Western, Central and Southern part of India. Therefore, our customers can be rest assured of regular and uninterrupted supply for full year.
Packing Boxes
Premium Carton boxes are used as specified by Indian Packing Institute with Bottom 5 Ply and Top 3 Ply.
Packing Options
We have three packing options 7 Kg, 13 Kg  and 18 Kg boxes (18 Kg boxes are subject to volume cap!). Normally, 13 Kg boxes are demanded by customers. However, for few select markets like Oman they prefer 7 Kg boxes.  Meem Exim has the support system in place to cater to both the requirements of clients!
Stuffing
We normally use non-palletized stuffing as per demand of Gulf Markets. The basic advantage is it helps load more number of boxes in a container so it's recommended. However, for advanced markets Palletized mode of stuffing of boxes is done to suit the demand of that market keeping in mind customer requirement.
Price
Banana price is quoted in USD per box or USD per Kg.
Brand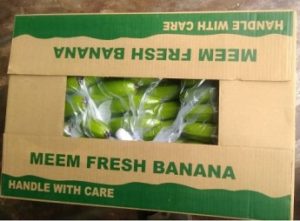 We are packing Banana under our brand name "Meem Banana". Meem Banana stands for Premium Quality and is being well appreciated by our business partners/distributors and most importantly the end consumers! 
Distributors and Partners Wanted
We are always in look out for new partners and distributors in overseas markets. Should you wish to explore Banana business and partner with us, please feel free to contact us!